Public Speaking and Presentation Skills
Fight or Flight? ...... Fight or Flight?...... Fight or Fight? ...... Flight or Fight? ...... Flight or Fight?
"Paul is excellent and encourages all students" - Nexans
Public Speaking Skills – Training Outline

A great presentation can help you clinch a sale or a new job, captivate an audience or teach your own skills to others. Communication is the new currency and fortunes can be won or lost on the back of how we present ourselves and yet unlike some cash-rich people who were born into money, it's a myth to believe there are 'born speakers'.

Presenting to a room full of people is more than just talking, it's a performance. Throw in a microphone or two and a TV camera and it becomes a production. The Presentation Station will give you the proven techniques needed to impress and influence an audience of any size and show you how to polish the skills you already have.
LEARNING OUTCOMES
No nonsense cure for nerves

Be fu

lly prepared for presentations

Using

'

The Voice

'

to communicate with
confidence

Developing your

'

message

'

for
maximum effect

Body Language - skills you can lean on

Basic mistakes and how to avoid them

Caught on camera. Film of your training for your eyes only

Practical demonstrations and realistic scenarios
COURSE AND TUTOR PLEDGE
This training course will provide you with the knowledge to master the skills needed for presentations and speaking in public.
The course is tailored to help whether you are fearful or fearless about speaking in public
Your individual performance will be filmed and critiqued in confidence as a complimentary follow up service.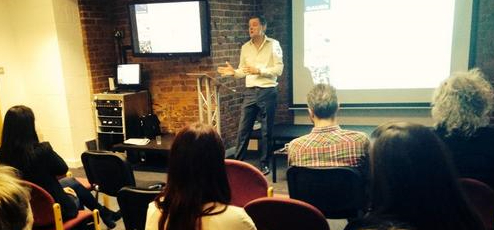 Make Your First Impression Last
Our award winning trainer, Paul Lockitt will come to your venue or work-base and provide your team with a unique insight into proven presentation techniques and a tailor-made workshop.
Public Speaking Course Itinerary:
09.30 Registration; teas and coffees
10.00 Make a lasting impression from the word go
10.45 It's all about you!
The Voice

- " I worry I speak too quickly"
Pace, Pitch and Vocal Power
Get Real - "My body language when I speak isn't great". Find the natural communicator inside and outside of you
Slide & Speak - "I tend to use my slides as a crutch."
How to avoid a pointless PowerPoint
High and Dry - "My subject-matter is boring."
Taking dry to new heights
11.15 Break
11.30 Stand and Deliver - Put some presence in
your presentation
12.00 Pitch Perfect! Take your pitch to new heights
In this practical session your trainer will give you constructive feedback, and will encourage other participants to comment on some key skills, such as delivery-style, content, slides (if used) engagement and presence. Each presentation will be filmed fly-on-the-wall-style.
12.45 Feedback and critique
13.00 Lunch
Session Two

14.00 Secrets - Presentation secrets of the pros
14.30 Stand and Deliver Part 2
Delegates can deliver a presentation they
prepared in advance *optional
16.00 Critique and Summary
16.20 The Big Finish!
*Taking part in the practical sessions is optional, which provides peace of mind to those who prefer to observe.

Delegates who participate in the practical session will receive filmed footage of their individual performance and a personalised critique.
Thank you again for a most wonderful (training) day. I feel excited about my next opportunity to present as opposed to looking at it as huge job to get done - SAS Ltd